Faddrar + träd!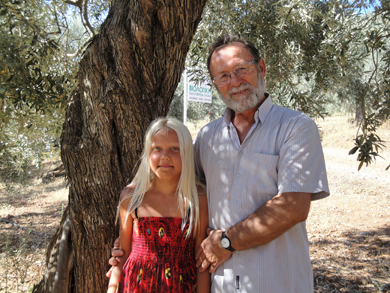 Alvia och Andreas vid trädet Alvia, i augusti 2014. Alvia and Andreas next to the olive tree Alvia, in August 2014.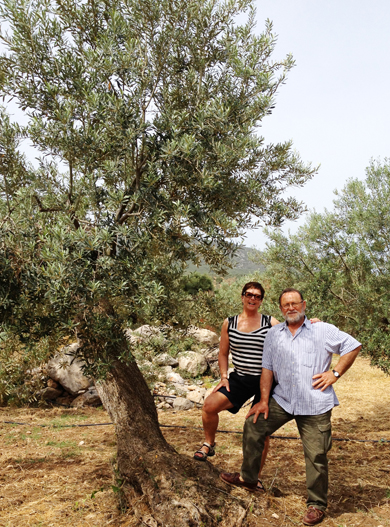 Harriet från Falun och Andreas i lunden i maj 2013. Harriet from Falun, Sweden, with Andreas in the grove in May 2013.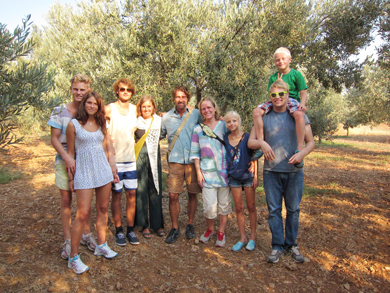 Två familjer från Lund hälsar på sitt olivträd sommaren 2013. Two families from Lund visit their tree during the summer of 2013.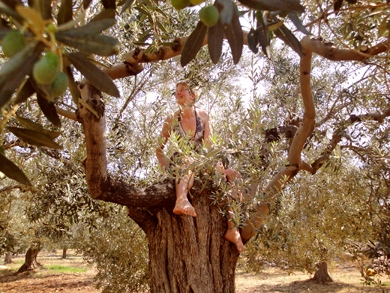 Åsa klättrar upp på sitt stora träd vid besöket i Ifigenialunden, sommaren 2012. Åsa climbs her tree during a visit to the Ifigenia grove, summer 2012.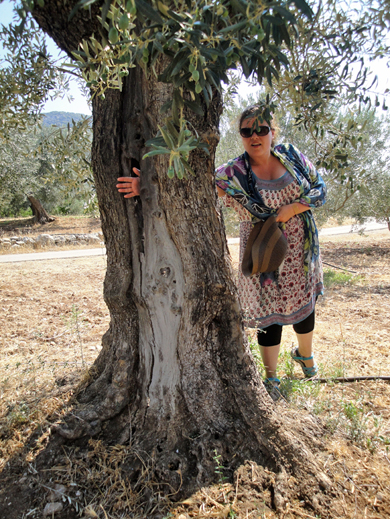 Henrietta skakar hand med sitt träd, sommaren 2012. Henrietta shakes hands with her tree, summer 2012.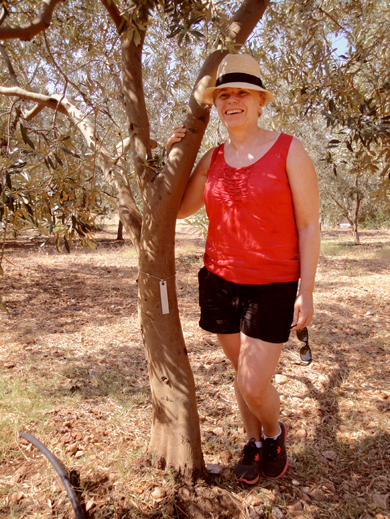 Anki poserar vid träd 50 som hon fick i 50-årspresent, sommaren 2012. Anki poses by tree 50 which she received on her 50th birthday, summer 2012.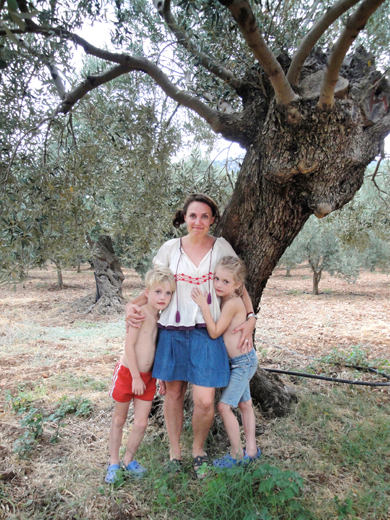 Anna med tvillingarna Elias och Love, från Stockholm, besökte sitt träd i september 2011. Anna and twins Elias and Love, from Stockholm, Sweden, visited their tree in September 2011.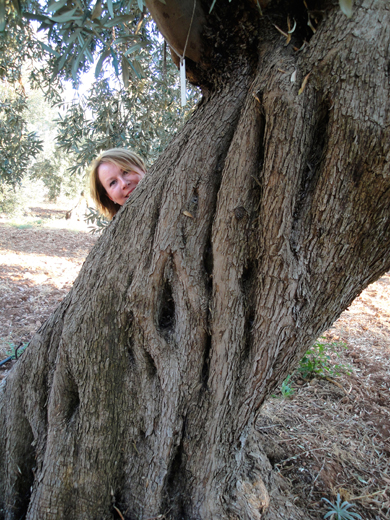 Charlotte från Stockholm/Genève lärde känna sitt träd i september 2011. Charlotte from Stockholm, Sweden, and Geneva, Switzerland, met her olive tree in September 2011.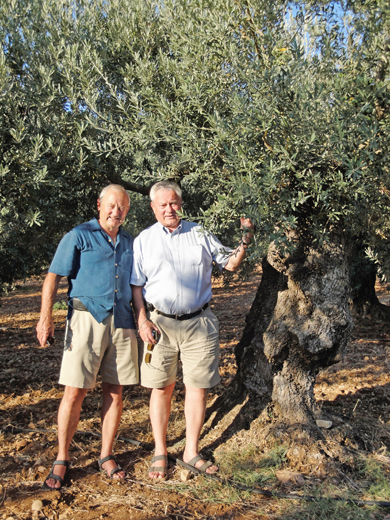 Två bröder och bästa vänner, Barry och Bruce, framför trädet »Bror« i september 2011. Barry bor i Boston och Bruce i Schweiz. Two brothers and best friends, Barry and Bruce, in front of the tree »Bror« (»brother« in Swedish), September 2011. Barry lives in Boston, USA, and Bruce in Switzerland.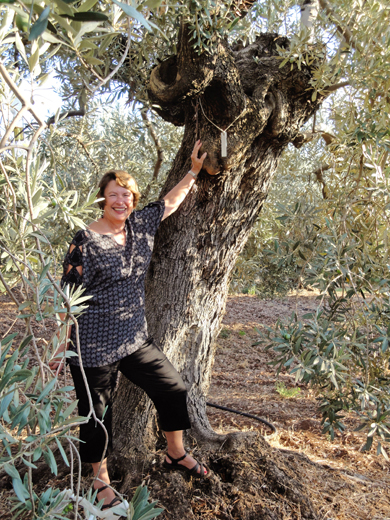 Alison från Boston, USA, besökte sin systers träd i september 2011. Alison from Boston visited her sister's olive tree in September 2011.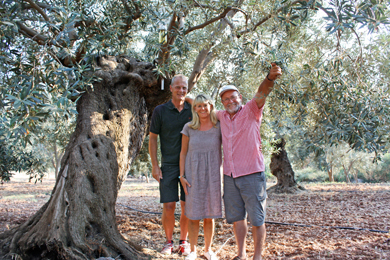 Magnus och Agneta från Torslanda besökte Magnus gigantiska träd i augusti 2011. Magnus fick trädfadderskapet i femtioårspresent. Mannen med röd skjorta är Andreas Staikos, vår underbare guide i lundarna. Magnus and Agneta from Torslanda, Sweden, visited Magnus' huge tree in August 2011. Magnus received the tree sponsorship as a gift at his 50th birthday. The man with the red shirt is Andreas Staikos, our wonderful guide in the groves.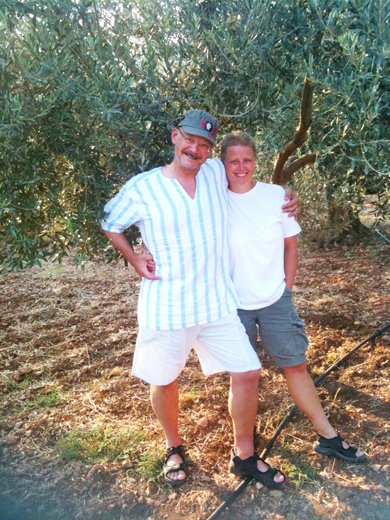 Hans-Ola och Lena från Piteå hälsade på sitt träd »Refugium« i juli 2011. Hans-Ola and Lena, from Piteå in northern Sweden visited their tree »Refugium« in July 2011.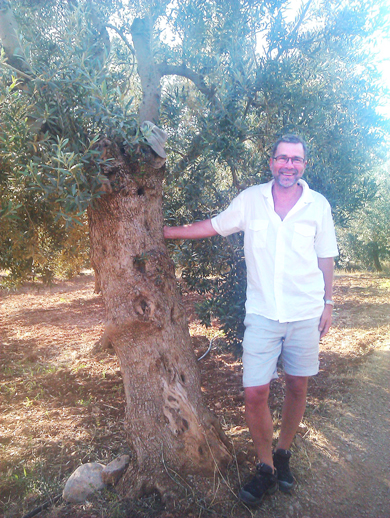 Clas från Göteborg, fantastiskt matintresserad, hälsade på sitt olivträd »Ollie« i juni 2011. Här får Ollie låna Clas hatt! Clas from Göteborg, Sweden, our fantastic foodie, visited his olive tree »Ollie« in June 2011. Here Clas has lent Ollie his hat!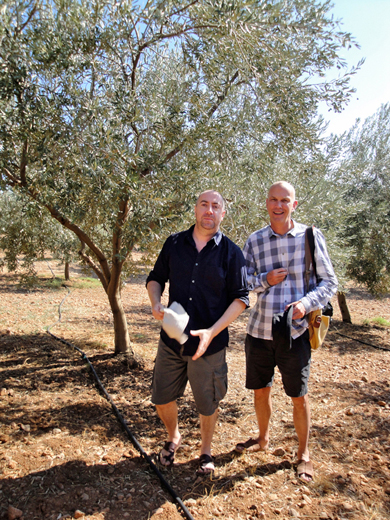 Tim och Tom från London mötte sitt träd i augusti 2010. Båda är med i en författarförening med namnet »26« – så det blev Katafykiträdet 26 de naturligtvis blev faddrar till! Tim and Tom från London met their tree in August 2010. They are both members of the writers' group called »26« so Katafyki tree number 26 was their natural choice of tree to sponsor!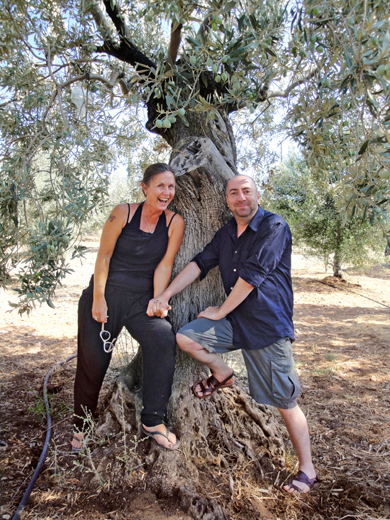 Tim och Les från London besökte sitt olivträd i augusti 2010. De fick fadderskapet som present när de gifte sig. Tim and Les from London visited their tree in August 2010. They received the olive tree sponsorship as a wedding gift.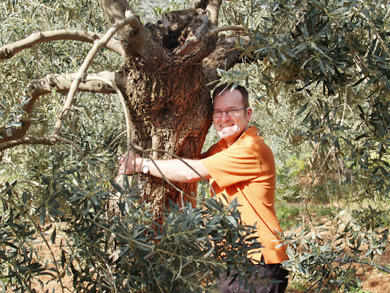 Kalle från Malmö var den förste faddern som åkte till Grekland för att besöka sitt olivträd »Agathon«, under påsken 2010. Kalle from Malmö, Sweden, was the first sponsor to visit his olive tree »Agathon«, at Easter 2010.